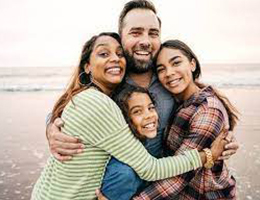 Living with your family is a privilege, but many of us have never experienced it. That spouse whose partner is living outside of boundaries has to work harder to settle down with him or her. This is known as a dependent visa or a spouse visa. Most countries do not allow automatic entry to establish a home together, so one must apply for a spouse visa.
The dependent visa category allows a person's dependent to join them if they are a permanent resident or are in a foreign country under another visa category. This visa category is extremely beneficial to families and children.
DEPENDENT VISA:
The dependent visa is a permit that allows you to live in the country. People working or residing in foreign countries can obtain dependent visas for their spouse, parents, and dependent children. However, there are also plenty of requirements that must be met before applying for a dependent visa.
Dependent visas include spouse visas, children visas, family visas, and dependent visas, and the application process is simple if you have access to proper documentation. Flywing overseas ensures that the documents you submit are up to date and pass the verification process.
Eligibility:
The nature of the relationship with the sponsor and proper evidence to show that your relationship is genuine.
Enough funds availability to qualify as a sponsor of a spouse visa.
Language proficiency
Valid Proof that the child is less than 22 years of age and dependent on a parent for financial support
Evidence that the de facto relationship must have existed for at least 12 months before you apply for this visa.
Documents required:
Valid passport
Proof of relationship
Language proficiency(if Required)
Passport size photographs
These are basic documents that are needed for every student visa additional documents may differ based on rules and regulation of that particular country. Flywing overseas an experience Visa Consultant in Ahmedabad. Dependent Visa for Spouse, Student, Children. We are reliable Dependent visa consultancy in ahmedabad offers Canada Dependent visa, UK Dependent visa, Australia Dependent visa, New Zealand Dependent visa, USA Dependent visa. Contact industry best visa agent in Ahmedabad, Contact us.