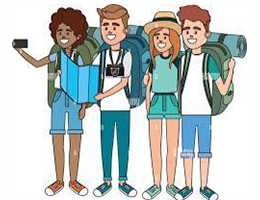 The world has several beautiful things to offer, and those who do not travel miss out on many treasured moments in their lives. Traveling to different parts of the world is one of the most rewarding things a living person can do. Whether it is about travelling to a new destination, to explore a new culture, or visiting members of your family who live far away, or even finding work through a visit to your dream country, travelling plays a vital role in all of the above subjects, and in order to travel hassle-free, the first step is to learn about the visa of the destination country.
Obtaining a visa is a difficult process that necessitates a great deal of documentation and luck, but we at flywing overseas make this process simple and painless for you. We have a dedicated team of qualified visa agents who are knowledgeable about visa processing and consultation for almost every country in the world.
Visitor visa:
A visitor visa is also referred to as a travel visa. It is a document issued by the government that allows an individual to stay in the country for a set period of time. This official document serves as proof that the person has legal permission to be in the country and is not entering the country illegally. It allows them to visit the country and stay for a limited time without facing any legal stumbling blocks.
A visitor visa is granted to someone who is not a citizen of a specific country. Every country has its own set of visitor visa rules. This visa is required to visit your dream location because issuing this document ensures that the country's security is not jeopardized.
Documents required:
While Indians do not require a tourist visa to visit SAARC countries, a tourist visa is required to visit the United States, United Kingdom, Europe, Canada, and many other countries. The following are some of the documents that must be submitted when applying for a tourist visa.
Application form
Valid passport
Photograph
Itinerary
Funds
Additional documents may be required depending on the rules of the country in question. Flywing overseas an experience Visa Consultant in Ahmedabad. We are reliable Visitor visa consultancy in ahmedabad offers Canada Visitor visa, UK Visitor visa, Australia Visitor visa, New Zealand Visitor visa, USA Visitor visa. Contact industry best visa agent in Ahmedabad, Contact us.